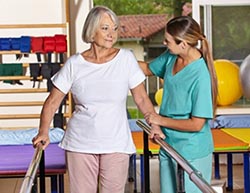 Our specialized rehabilitation restores lives and lost abilities after a surgery, illness or injury. Our approach involves treating the entire patient - physically, emotionally, and socially. In rehabilitation, the goal is to return patients to their optimum level of function and open the door to the highest quality of life possible.
Once the patient's physical limitations are identified, an individualized treatment program is developed and skilled treatment procedures are implemented. These clinical programs are designed to address the patient's mobility, performance of daily activities, communication skills, and swallowing dysfunction.
At Van Buren Health & Rehab, our comprehensive rehabilitation team provides individualized and goal-oriented treatment programs. Our focus is to help patients return home by offering treatment plans designed to integrate them back into the community and home environment.
Our state-of-the-art therapy gym and rehabilitation programs are driven by a well-qualified staff of physical, occupational, and speech therapists, all of whom are licensed and strive to provide a loving atmosphere. We strive to work as a team to provide comprehensive therapy services in a professional environment.
Physical Therapy
Licensed therapists and aides carry out physical therapy programs such as: range of motion, gait training, ambulation assistance, wound care, muscular re-education, and other areas of post trauma or post operative care.
Occupational Therapy
Licensed Occupational Therapists and aides specialize in helping patients "relearn" and perform basic daily living tasks such as dressing, eating, grooming and personal hygiene. The goal is to help each resident regain as much independence as possible.
Speech Therapy
Speech Therapists and aids work to improve swallowing and eating capabilities, cognitive skills, and memory programs. Speech Therapy may be able to help your loved one with declines due to brain injury, stroke, cancer, infection, or physical abnormality. Improving the ability to speak and communicate also improves your loved one's overall quality of life.